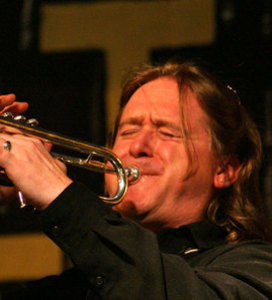 Garret Savluk - Trumpet - Vocals / Boston Horns 
Based out of the Boston area, Garret gained recognition around town with the Heavy Metal Horns; the 1990's Funk - Horn band and Horn section. During the 1990's, Heavy Metal Horns did multiple tours of the United States and Garret toured across the North-East with legendary Horn / Soul band, Tower of Power. HMH also  gained international recognition performing on Extreme's "Stop the World" world tour in 1993 in which garret was a featured performer on a 'rap' with Gary Cherone
Currently, Garret is the Leader of the 7-piece funk jazz group The Boston Horns. Boston Horns have been performing all over the Northeast and beyond since 2000.
Garret has penned many songs and arrangements and has done some horns section arranging / recording work with Grammy award winning artist, Shawn Mullins ("Beneath the velvet sun") among many others.
Lastly, Garret also does plenty of freelance work in the area when not playing with Boston Horns ; Corporate, club dates, recording / recording for artists overseas via the internet. He also continues to private teach Trumpet / Brass / Jazz students in public and private School systems in the area.
Performed, Recorded or Toured with-
Tower of Power, Paquito D'Riviera, Extreme, Heavy Metal Horns, Boston Horns, Alan Dawson, Adam Nussbaum, Frank Wilkins, Ricky Ford, Dave Holland, Steve lacy, Johnny A., Shawn Mullins, Susan Tedeschi,Rita Moreno and many more…..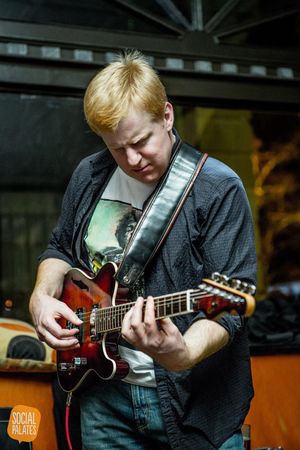 Jeff is one of the founding members of the Boston Horns, with the band since its inception in 1999. In addition to handling the guitar duties, he has contributed as a songwriter, with credits on all of the Boston Horns releases. 

Over the years Buckridge has been involved with several projects outside of the Horns, including gigs as a sideman with KD Bell, Erinn Brown, Jesse Ciamataro, Vykki Vox, Ken Clark, Headshaft, and others. He can also regularly be seen jamming on the North Shore with various BoHo side projects.  

His guitar style combines rhythm influences, like old school James Brown and New Orleans syncopation ala Leo Nocentelli, and lead guitar influences ranging from Kenny Burrell to Jimi Hendrix.   

In addition to his guitar playing, Buckridge is a music educator, having earned his Masters Degree in Music Education, and teaches in the town of Andover, MA, where he is the director of the Andover Public School Jazz Band program.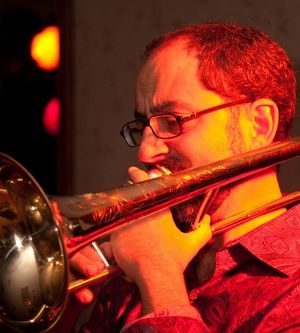 Squantch played his first professional gig when he was fifteen years old, leading his jazz quintet on the bow of a yacht. In the twenty-five years since that occasion, he has performed and toured extensively, playing styles ranging from avant jazz to zydeco, and recorded more than twenty albums. Squantch graduated from Berklee College of Music having studied with Dr. Phil Wilson. At the University of Miami, he studied under Dr. Charles Cambell (Philadelphia Orchestra).

Squantch has toured North America and Europe with a variety of bands, including the widely acclaimed jam band Topaz, acid jazz gurus The Groove Collective, and the innovative ska ensemble David Hillyard and the Rocksteady VII. His music was featured on HBO's Sex and the City and The Sopranos, the film Beavis and Butthead Do America, MTVs I'll Bet You Will and in numerous commercials. Tracks recorded for Roger Sanchez, Tortured Soul and Better Daze have become staples in dance clubs around the world.


Discography - Squantch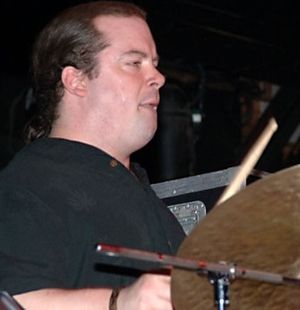 Peter plays all around the Boston/New England/New York area. In addition to playing with the Boston Horns, Peter has many side gigs with a bunch of different bands including Jen Kearney and the Lost Onion, Sam Kininger Band, Ben Zecker Band/s, The Dawn Chorus, Melvin Sparks Band, Two Ton Shoe, Organism, The Freelance Bishops, Organ and Orbit, Pollotronik All-Stars, Eric Bloom and the Reform Party, Wally's Stepchildren, and Justin Piper Trio.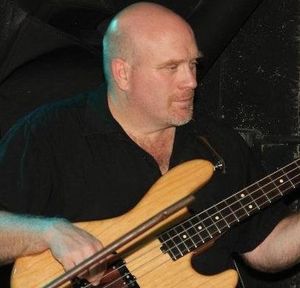 Ed Spargo, who has been referred to as an "MVP among Boston Sidemen" by Ted Drozdowski of the Boston Phoenix, has been an integral part of the Boston music scene since the mid-80s. He's shared his sympathetic accompaniment with artists such as Johnny A., Toni Lynn Washington, Heavy Metal Horns, Greg Piccolo and James Montgomery, to name a few. Check out Ed's website for more information about Ed and his latest CD, Playroom.